Grammar courses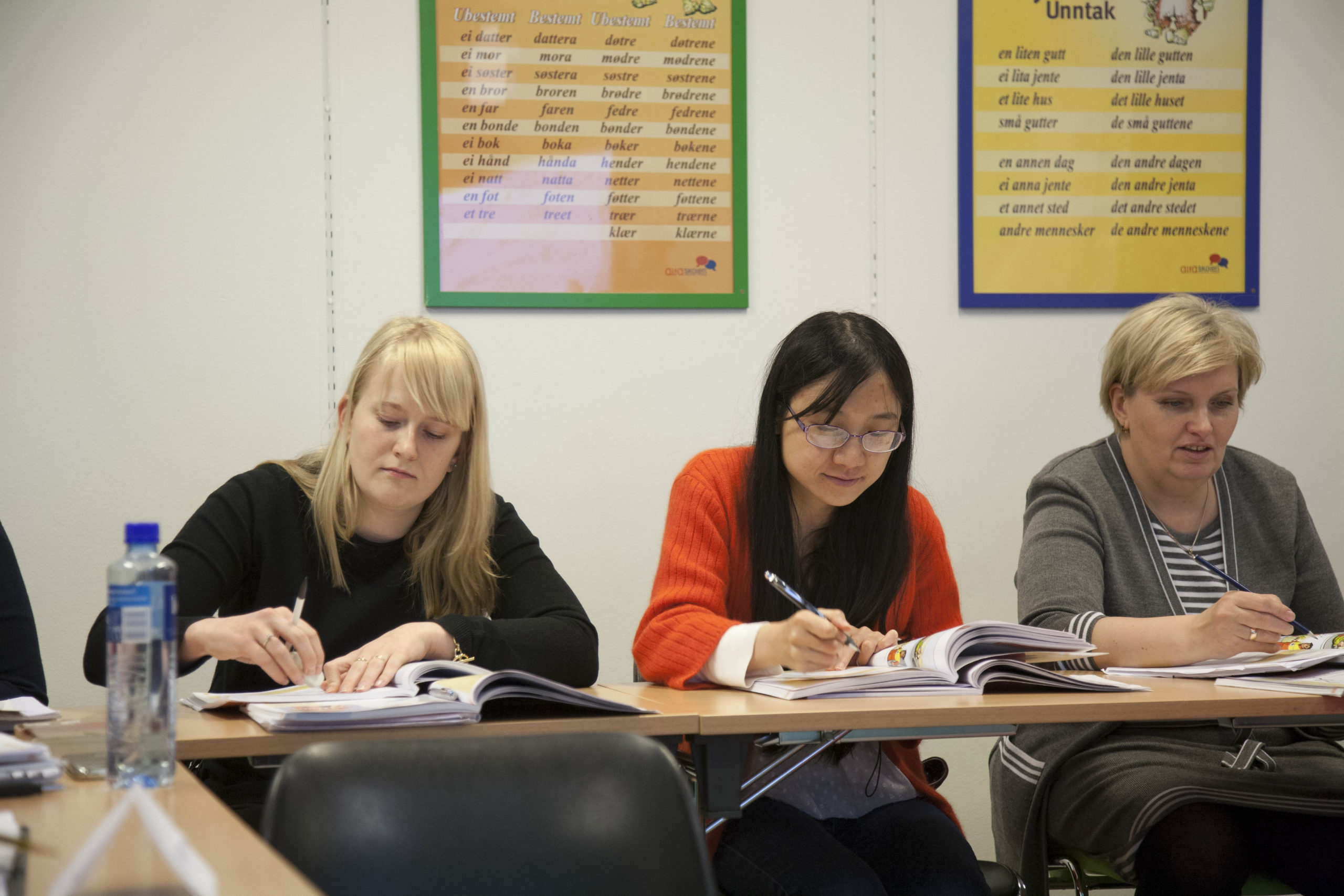 Develop greater control of Norwegian grammar
Increase your vocabulary and develop your writing skills so you can communicate any message. Prepare for your Norskprøven.
If you know some Norwegian and want to improve your grammar skills to Intermediate Level, these courses will help you on your learning journey. After attending our courses and doing the activities, you will see a great difference in your grammar and writing.
Our Grammar Courses are designed to take your Norwegian language skills to the next stage with high-quality lessons and other activities.
Starting from 4435 NOK
Grammar Course B1
In the Grammar course B1 you will:
Develop greater control of Norwegian grammar, including more sophisticated areas like the declension of Norwegian nouns
Express and understand key information about typical situations such as work, school or leisure
Describe experiences and events
Give reasons and explanations for opinions and plans
Practice writing coherent texts on different topics
Increase your vocabulary
Some of the topics you will review: nouns, pronouns, adjectives, determiners, verbs and participles.
After completing the course, you will be able to use correct inflections of adjectives, pronouns, nouns and determiners. You will feel more comfortable using these in daily conversation and when writing Norwegian.
Grammar Course B2
The Grammar course B2 is designed to tackle grammatical issues that usually cause difficulties for students at a high level. For example:
the difference between "skal" and "vil" in the future tense
conditional "hvis" sentences
the use of prepositions
The course will also help you master the stylistic nuances in Norwegian. Through various techniques you will improve your grammatical skills. The techniques include:
exercises
group work
written assignments
Choose what suits you best
Alfaskolen is an officially certified provider of tuition for Norwegian as a second language and Norwegian Social Studies. Hours undertaken in our Norwegian courses are approved by UDI in applications for a permanent residence permit.
You can complete this level as a whole (8 weeks) or in two parts (2 x 4 weeks). Sessions are held twice per week, either on Monday/Wednesday OR on Tuesday/Thursday. Each session consists of 3 lesson hours and the course consists of 24 lesson hours in total. Each lesson hour lasts 45 minutes.
You can easily combine a grammar course with a standard Norwegian course. The sessions consist of theoretical and practical parts. You will work with exercises both individually and in groups and concentrate on what may be difficult for non-native Norwegian speakers. You will receive a substantial amount of homework.
You can choose to attend our courses at our school in Oslo or via Zoom. Certified, experienced native or native like teachers for one-on-one or group classes.
All our prices are in NOK.
Grammar B1 strengthens your use of Norwegian grammar in everyday situations. This course is the best fit for students who are learning Norwegian at an Intermediate B1 Level.
Course Certificate

At the end of the Grammar course, if you complete 80% or more of the course's content, you will receive an official digital course certificate.
Public holidays

Sessions that per regular schedule fall on a Norwegian public holiday, will be postponed to the next lesson day, unless otherwise discussed.
| | |
| --- | --- |
| December 25 – January 1st | Christmas break 2023/2024 |
| March 28th – April 1st | Easter break, school is closed 25.03-01.04 |
| May 1st | International Workers' Day |
| May 9th | Ascension Day |
| May 17th | Norwegian Constitution Day |
| May 20th | Second day of Pentecost |
| December 21 – January 5th | Christmas break 2024/2025 |